Jaipur sits at an altitude of 430 m and 260 km from Delhi, in a bowl protected by the Aravalli mountains.
The city of Jaipur is 142 km from Pushkar.
Unlike most of the villages of the Indian subcontinent which often has more than 2 000 years, Jaipur is recently founded: it is the work of Maharaja Jai ​​Singh II.
Originally, the city was not uniform pink that he currently experiencing, but offered a wide range, mostly gray and white. However, in anticipation of the visit of Prince Albert in 1876, it was painted pink as a whole, the pink color is welcome. Since it retains that purpose and is called the pink city.
The observatory of Jaipur (Yantra Mandir) referred around the world since its commissioning (1726) until the beginning of modern times.
Monuments to visit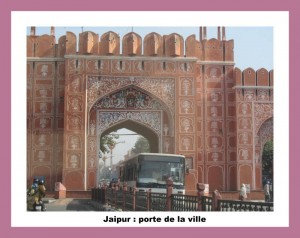 Located in the foothills of the Aravalli Mountains, it is surrounded by a wall 6 m high and 4 m wide. The entrance to the city is through eight doors.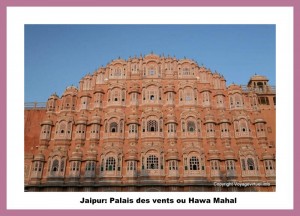 The Palace of Winds (Hawa Mahal) is a building built in the eighteenth century in Jaipur, capital of Rajasthan.
The hundreds of windows and balconies (953, apparently) adorning its façade on five floors are constructed to allow the women of the royal harem see out without being seen in return.
Built according to the canons of the Rajput architecture, it was designed to allow the wind to circulate inside and so cool from where the name "Palace of Winds".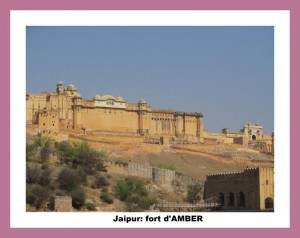 The Amber Fort is situated on a mountain around Jaipur.
The Amber fort is from the 12th century the Citadel Kachwahas, but it was only in 1590 that Raja Man Singh I built fortifications and magnificent palaces. These palaces are then embellished by other Rajas.
The wall surrounding the fort is a bit like the Great Wall of China.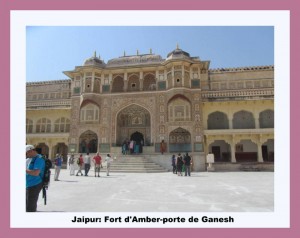 It is the ceremony gate which leads to the Palace of the rajas and the beautiful gardens decorated like french gardens.
The decorations of the door have floral and geometric designs around the representation of Ganesh, the famous god with the elephant head.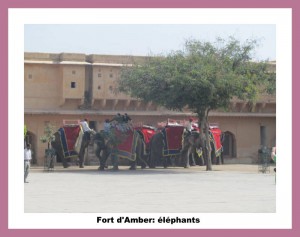 In the morning, many elephants climb the main access ramp to rejoin the building to tourists