Jodhpur is the second largest city in the Indian state of Rajasthan in population after the state capital, Jaipur, which is 340 km distant.
Founded in 1459 by Rao Jodha, Jodhpur is called the "Blue City" because most of the houses in the old city are painted that color. The blue indicated that these houses belonged to members of the Brahmin caste.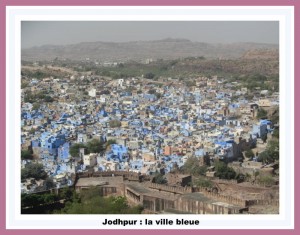 Blue also has the advantage of protection from heat and repel mosquitoes. Jodhpur is also called "the city of the sun" because of its sunshine.
Monuments to visit
Ghanta Ghar also known as the clock tower was built by the late Shri Sardar Singh Ji. Next to the tower, there is the Sardar market that is popular with tourists for shopping. In this market, tourists can buy textiles of Rajasthan, clay figurines, miniature camels and elephants, marble inlay work and classic silver jewelery.
The Mehrangarh fort is one of the largest forts in India that account. Called the magnificent fort, overlooking the city from its 122 meters. Inside it is a richly decorated palaces and embellished with numerous courtyards