Jaisalmer is a city of Rajasthan located 100 km from the Pakistan border.
Jaisalmer is located 333 kms from Bikaner.
The city was founded in 1156 by Raja Rao called Jaisal
The fortress of Jaisalmer then occupied a strategic position on the caravan route of spices from Central Asia and India.
The princely state that the city was the capital was integrated into Rajasthan in 1949
Indo-Pakistani conflict of 1965 and 1971 revealed the strategic importance of the city.While lost in the heart of the Thar Desert, its high mass catches your eye.
The golden sandstone ramparts, bastions scalloped, crown the fortress for miles.
Jaisalmer is known as the Golden City
Monuments to visit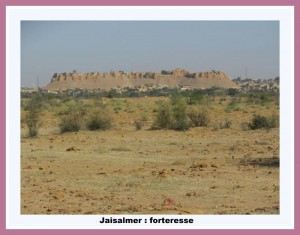 Perched atop the Trikuta hill, Jaisalmer Fort overlooking the city of about 100 meters, surrounded by ramparts of 5 kms.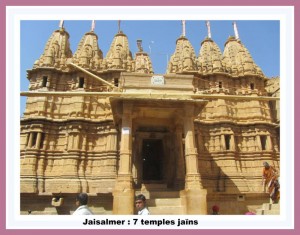 Located in the Jaisalmer Fort, Jain temples were built between the 12th and 15th centuries by wealthy Jain merchants. This group of seven shrines is distinguished by her graceful proportions and the abundance of decorations, carved like ivory.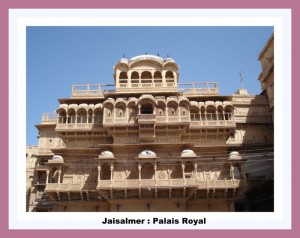 The palace, originally built in the 15th century in the Jaisalmer fort, has been fully restored and includes buildings dating back several times. To the left of the entrance, on top of a grand staircase, is the marble throne of Maharaja, which he had presided. The palace was designed as a maze and has seven floors. On the top floor terrace offers a breathtaking view of the ramparts.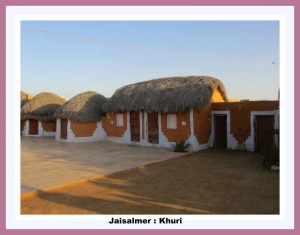 Just 40 km from the town, Khuri is a must visit for tourists seeking solitude in the desert. It is a peaceful place with houses of mud and straw decorated like the patterns of Persian rugs. Khuri sand dunes offer a memorable experience in the land of the Rajputs. Let yourself be lulled during a ride on a camel. You can immerse yourself in local life. At night you can enjoy culinary specialties while listening to the songs' Kalbeliyas