Mandawa is a town in Jhunjhunu district of Rajasthan in India. It is part of the Shekhawati region
Mandawa is 260 km from Delhi.
Mandawa was a trading outpost for the ancient caravan routes that stopped here from China and the Middle East. The railroad was the death knell of the caravans.A kilometer before reaching Mandawa, there is a big water tank where the caravans were accustomed to swim Another tank used to water their camels.
The city is known for its fort where you can stay and havelis.
Monuments to visit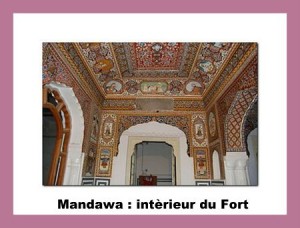 The fort of Mandawa was founded in the 18th century. The fort dominates the town with an ornate passage Lord Krishna and his cows. Built on a medieval theme, the castle of Mandawa is adorned with beautiful frescoes. The rooms are decorated with paintings of Lord Krishna, beautiful sculptures and amazing mirrors. Located in the center of town, the Mandawa Fort has been converted into a hotel.
This city was referred to as "open art gallery" of Rajasthan because the Shekhawati region and not just Mandawa is dotted with beautiful houses called havelis with richly painted walls
.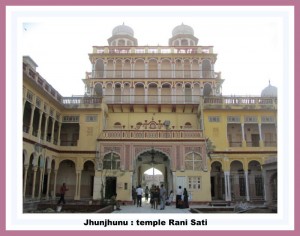 At  25 kms from Mandawa, the Rani Sati temple in Jhunjhunu, large set consisting of hostels for pilgrims, courses, halls and shrines in garish colors, embellished with mirrors and colorful statues. It commemorates Rani Sati, wife of a local merchant who became sati by jumping into the funeral pyre of her husband