The city with an area of 38 km² is located at an altitude of 237 metres.
Bikaner is 494 km from Delhi and 190 from Mandawa
Agriculture, always difficult in the region because of the near-desert climate, long depended on rain water. The construction of Indira Gandhi canal has allowed the development of cultures. Main products are wheat, cotton, mustard and groundnuts now.
The city also produces rugs and ceramics industry is widely developed.
                                                 Monuments to visit
Nearly a kilometre in circumference, the fort was built by Raj Singh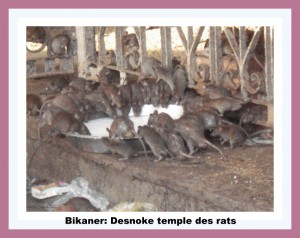 About thirty kilometers from the city, Desnoke, is the Karni Mata Temple, also known as "Temple of Rats."
This animal is revered.
According to legend, Karni incarnation of the goddess Durga, implored the God of the dead, the God Yama resurrect the eldest son of one of its storytellers.
Yama refused at first and then finally accepted and allowed Karni Mata to return with his family not only the soul of the deceased son but also those of all the storytellers and Dead Poets , but not as a human rebirth but reincarnating in rats.
It bodes well to meet the white rat.