Chandigarh is a new city in India which is the capital of two states, Punjab and Haryana. However, the city is not part of one or the other: Chandigarh is a territory administered by the federal government, represented locally by an administrator.
The name of the town derives from Chandi Mandir, a temple dedicated to the goddess Chandi, located in the neighboring district of Panchkula. The word Chandigarh literally means "the fort of Chandi".
In 1966, the Indian government established the State of Haryana which is subtracted from the Punjab. Chandigarh became its capital. Chandigarh therefore welcomes the administrations of both states and the territory of the Union.
Monuments to visit
The first official town architect was American Albert Mayer, associated with Mathew Novicki. At the accidental death of the latter in 1950, Albert Mayer waives the project. Pandit Jawaharlal Nehru, Prime Minister, then called the Franco-Swiss Le Corbusier, architect known for his imagination. It is he who carries out the project for the new capital of Punjab in 1951 The team, composed of young Indian architects also makes the planning while plan it develops itself the Capitol Buildings: Courthouse the Secretariat and the Palace of meetings (and the plans of the Governor's Palace that will never be built). Chandigarh is today the largest concentration of works by Le Corbusier on the planet, the second being Firminy in the Loire region in France.
Its Rock Garden, Rock Garden, built by Padam Shri Nek Chand from recycled objects. The tour operates at a small narrow path, there are several statues and fountains.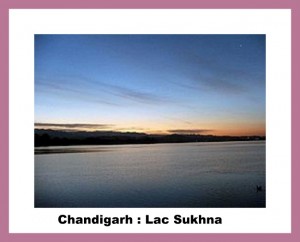 Sukhna Lake in Chandigarh, is an artificial lake at the foothills of the Himalayas, the Shivalik hills
This 3 km² rainfed lake was created in 1958 by damming the Sukhna Choe, a seasonal stream coming down from the Shivalik Hills.