Varanasi or Banaras is a city in the Indian state of Uttar Pradesh. Located on the left bank of the Ganges, the city is considered one of the oldest inhabited cities in the world. Dedicated to Shiva, it is the spiritual capital of India and the main holy city of Hinduism.
It was the capital of the principality until 1947.  Varanasi is now the capital of the division of Varanasi and Varanasi district.
The name "Varanasi" probably comes from the names of two tributaries of the Ganga, Varuna, which always flows in the city, and the Assi, not visible except a creek near the Assi ghat. Another hypothesis is that the name comes directly from that of the Varuna River, formerly known as Varanasi.
Ganga symbolizing Shiva's hair has a purifying function. To be cremated in Varanasi is also breaking the cycle of reincarnation and reach Nirvana.
Then the show along the ghats, these stairs that run along the Ganges nearly 7 km. People come here to pray, wash (purify), shaving (women pilgrims donate their hair to the river), play cricket, do laundry, give alms to the sadhus, practice yoga, drying cow dung … or watch this colorful circus. We hear jumble of Hindi pop music, the sound of conch and bells agitated during prayers
Monuments to visit
Spiritually rewarding and incredibly photogenic, Vârânasî  shines by the ghats, the long beach of steps leading to the water on the west bank of the Ganges.
Most are used for swimming and ceremonies but there are also several "burning ghats' where bodies are cremated in public.
Dashashwamedh Ghat is located close to Vishwanath Temple, and is probably the most spectacular ghat. . A group of priests performed every evening at this ghat "Agni Pooja" worship fire.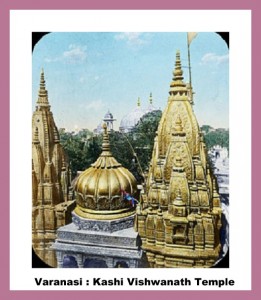 Varanasi is a city of temples. There is a temple near almost all parts of the journey. These small temples form the basis of daily local prayers and other rituals. There are also many great temples erected at different times in the history of Varanasi
Kashi Vishwanath Temple is one of the most famous Hindu temples. Also known as the Golden Temple, it is dedicated to Lord Shiva. The temple is located on the west bank of the holy river Ganges, and is one of the twelve Jyotirlingas, the holiest of Shiva temples. The main deity is known by the name Vishwanatha  where Vishweshwara means Master of the Universe.
The temple town that claims to be the oldest city in the world, with 3500 years of documented history is also called Kashi and hence the temple is called Kashi Vishwanath Temple.
Durga Temple also known as the Monkey Temple was built in the 18th century. . Thousands of Hindu devotees visit the Durga temple during Navratri and other auspicious occasions