Amritsar, in addition to its importance to the sikh community, is the administrative center of the district. The latter, which was the historic capital of Punjab before the partition of India, is 60 km to the West, across the border with Pakistan, which is itself remote about 30 km from Amritsar
It is served by an international airport located in the village of Raja Sansi.
The main economic activities rely on tourism, textile and carpet manufacturing, agricultural production, craft …
The city is known for both massacres she witnessed:
the Amritsar massacre or massacre Jalianwalla Bagh, 3 April 1919, which caused 379 deaths and 1200 injuries.
the massacre of the Golden Temple 31 May 1984 where over 400 people died.
Monuments to visit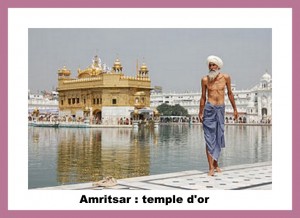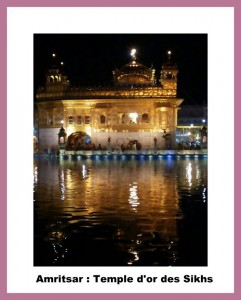 Golden Temple is the informal name of the Harmandir Sahib, the holiest Sikh building, located in the heart of the city of Amritsar, Punjab in north west India. The name of "Golden Temple" is due to its gilded with gold cover.
The temple is a majestic three-storey pavilion, whose upper parts were covered with plates and gold leaf in the nineteenth century on the orders of Maharaja Ranjit Singh. The building was built with marble of different colors, encrusted mother of pearl and semi-precious stones. The terrace, adorned with four chhatri (domed structures raised by four pillars), is topped by a golden dome shaped inverted lotus.
Its construction was ordered in 1601 by Guru Arjan, the fifth spiritual master of the Sikhs, in the place where the first of them, Guru Nanak, was meditating.
Destroyed in an Afghan invasion in 1757, the building was rebuilt eight years later.
On 5 June 1984, the temple was the scene of an military operation  ordered by the Indian Prime Minister, Indira Gandhi, in an effort to dislodge the separatist Sikhs who had entrenched . This massacre was officially 84 killed and 248 wounded soldiers among the attackers, while among pilgrims had counted 493 killed (including 100 women and 75 children) and 86 wounded.
The temple burned again during the operation, has been rebuilt.
The Golden Temple houses the Sikh holy book, Guru Granth Sahib, locked himself in a chest richly adorned.  "Kirtan" sacred hymns are sung continuously.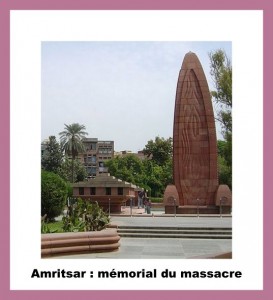 The Amritsar massacre – also known as the massacre of Jalianwalla Bagh – takes its name from garden Jalianwalla Bagh in Amritsar where, April 13, 1919, after three days of deadly violence in this city against European civilians by followers Indians Gandhi, Indian soldiers of the British Raj opened fire on a political rally unauthorized of Gandhian, killing hundreds of them. He is considered one of the events that led to the fall of the British Raj.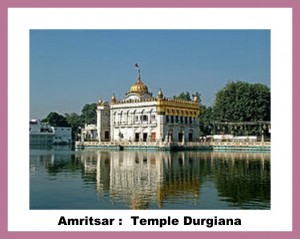 Durgiana Temple is the first Hindu temple in Punjab (India), located in the city of Amritsar. This temple gets its name from the goddess Durga and is also known by the name of Lakshmi Narayan Temple.
The temple was built by Mal Harsai Kapoor in 1908 on the model of the Sikh Golden Temple and is located near the Lohgarh door. . It is sometimes called Silver temple for its carved silver doors