Rishikesh is a town in the State of Uttarakhand, in the North of the India. Located at the foot of the Himalayas, the city is home to a Hindu shrine; known as city of pilgrimage, it attracts many Westerners for its ashrams where yoga is taught.
Situated so close to the source of the Ganges, the city has a sacred character. During the Yatra, many pilgrims come to perform religious activities in many temples and ghats. The ashrams dotted around the city.
Monuments to visit
Since 1968, the city became famous worldwide after the passage of the Beatles and actress Mia Farrow in the ashram of Maharishi Mahesh Yogi. The White Album of the famous group is almost entirely derived from the composition work done during their  retreat in the Ashram. It is now closed and abandoned since the death of yogi. It is now owned by the Indian company forests.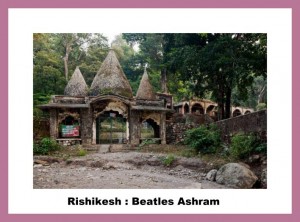 The most famous temple is called Bharata Mandir. It is located along the Ganga near the Triveni Ghat