Haridwar also known Hardvar is a city of India, capital of the district of Haridwar in the State of Uttarakhand. This is one of the seven sacred cities of Hinduism. Every twelve years held a religious festival: the Kumbhamela. The city is a major pilgrimage site for the faithful who bathes in the Ganges at Haridwar would destroy his karma.
The city of Haridwar is very old. She is quoted by the Chinese traveler of the seventh century. She was sacked by Tamerlane in 1399 In the nineteenth century it was an important center of religious reform movements, including the Arya Samaj.
Its name means "Gate of Hari," one of the names of Vishnu. However Shaiva called Hardvar the city in honor of Shiva. The three gods: Brahma, Vishnu and Shiva to have stayed here.
Monuments to visit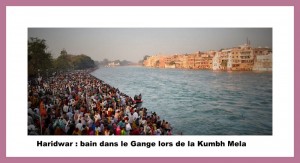 The Kumbha Mela or Kumbh Mela , literally "celebration of the pitcher") is a Hindu pilgrimage held four times every twelve years and held, in turn, in the holy city of Prayag (Allahabad Hindu name in Uttar Pradesh), Haridwar (Uttarakhand), Ujjain (Madhya Pradesh) and Nashik (Maharashtra)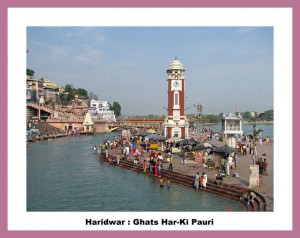 The Ghat Har-ki-Pauri: Hindus consider that the Ganges emerges from the Himalayas to that specific location. This sacred character is reinforced by the presence of a footprint of Vishnu on a stone. Many temples were built on top of the steps of the ghat. The ashes of the dead are immersed here.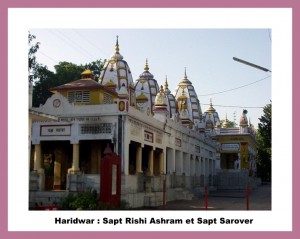 Sapt Rishi Ashram: located five kilometers from Haridwar, the ashram is built on the banks of the Ganges. According to legend, the Ganges would be separated into seven arms here not to disturb the meditation of the seven Hindu sages (rishis) who prayed there.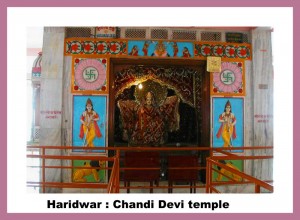 Chandi Devi Temple: This temple is located on top of a hill south of Haridwar. It was built by the king of Kashmir Suchat Singh in 1929 and dedicated to the goddess Chandi. The statue of the goddess was built by Adi Shankaracharya in the seventh century.
Manasa Devi Temple: built on the hill overlooking the city, it is dedicated to the snake goddess Manasa, a form of Durga. The ascent of the hill is either on foot or by chairlift. The view of the city and the Ganges valley is excellent.