Dharamsala is a city in northern India, located in the state of Himachal Pradesh. It is sometimes called the little Lhasa because it is the homeland of the 14th Dalai Lama, Tenzin Gyatso, currently in exile from Tibet.
Dharamsala is located in Kangra valley on the banks of the mountains Dhauladar.
In fact, the city covers 29 kms² divided into two parts:
The most urbanized city Lower Dharamsala better known as Dharamsala , rises to 1,240 meters. There are more shops and the administrative center of the city.
9 km away by road (but 4 km walk) from the lower Dharamsala, found uptown, more known as McLeod Ganj, located at 1700 m, it is a city of lesser importance but where most Tibetan refugees staying.
Monuments to visit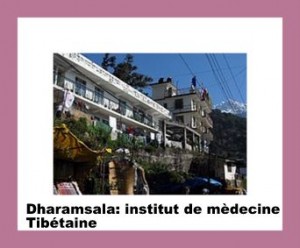 In 1961, the Dalai Lama in Dharamsala refounded the Institute of Medicine and Tibetan astrology. They teach and there is now developing Tibetan medicine. The Chakpori Institute of Tibetan medicine, later refounded in Darjeeling in India, Tibetan doctors also formed
The Namgyal Monastery is the personal monastery of the Dalai Lama since the 3rd Dalai Lama. Historically located in Lhasa, inside the Potala Palace, it was resettles in Dharamsala, India