Shimla is the capital of Himachal Pradesh and of the district of the same name in the north of India.
Formerly, the city was called Simla, named after Shyamala Devi, an incarnation of the goddess Kali.
Shimla is situated at an altitude of 2205 meters, about 115 km from Chandigarh and 365 km from New Delhi.
The city is surrounded by forests of pine, rhododendron and oak.
Monuments to visit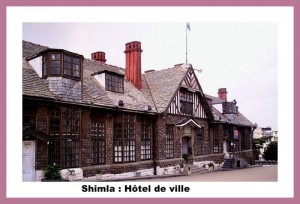 The city is famous for its tudorbethain style buildings and Gothic Revival dating from the colonial era, such as the town hall or the post office.
It also has churches, including Christ Church, second church old North of the India, located on the Ridge, large square in the heart of Shimla, and Hindu temples