Maheshwar, often called the Varanasi of central India, is a small holy city dedicated to Shiva, situated on the banks of the river Narmada .It was under the Holkar dynasty capital of Malwa until 1818.
Maheshwar is a culturally thriving city and its importance is described in the Puranas and throughout history. It is a religious city and the people here are simple and enjoyable.
Maheshwar is also known as a center of weaving colorful Maheshwari saris. . These saris are woven with distinctive designs involving stripes, checks and floral borders
 Monuments to visit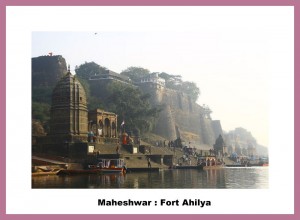 Located in central India, in Madhya Pradesh, it is in the town of Maheshwar ancient capital of Ahilya Bai Holkar queen, lies Ahilya Fort, overlooking the sacred Narmada River.
In 2000, the son of the last Maharajah of Indore has changed his home into a cozy guest house very confidential.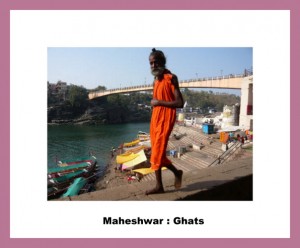 The ghats of Maheshwar are another tourist attraction. As the city is situated on the banks of the holy Narmada river, the ghats are the essences of religious Indian cities. This is the place where devotees make meditation.
There are more than 100 temples, which tell the story of Maheshwar whose Temple sahasrarjun