Sanchi is a small village in India, located 46 km northeast of Bhopal, in the central part of the State of Madhya Pradesh famous for its set of Buddhist monuments and in particular the great stupa, one of the sites among the most visited in India
It remains fifty important monuments on the Hill of Sanchi, including three stupa, and several temples in ruins.
The site of the Buddhist Monuments at Sanchi is inscribed on the list of world heritage of UNESCO since 1989.
Monuments to visit
All the great stupa of Sanchi, with handrail has a diameter of about 36 m. The stupa is primarily a mausoleum is a place of pilgrimage. The devotions are turning around the stupa in the direction of clockwise. The four torana-s, which are carved portals, turned to the four cardinal points, and provide access to the stupa.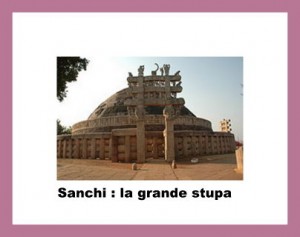 Edit