Bhopal is a town and former Principality of the India. Bhopal is the capital of Madhya Pradesh with about 1.8 million inhabitants.
The city is known for having been the scene of the largest industrial disaster in the world: the Bhopal disaster caused the death of thousands of people the night of 2 to 3 December 1984.
The heritage of the town especially for its mosques: Jama Masjid (1837), Moti Masjid (circa 1860), Taj – ul Masjid (circa 1880).
The city is nestled between small hills which overlook two artificial lakes. To the North, there is the old quarters and their networks of alleys and Bazaar around three mosques.
Monuments to visit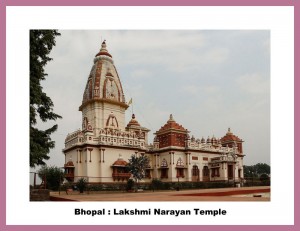 Lakshminarayana temple (Birla temple) is a very popular location on a hill in the South of the city. Recently built, it offers good hospitality and great views of the city.
The temple is dedicated to goddess Lakshmi. In the premises of the temple lies the Birla Museum, which presents a huge collection of sculptures in the districts of Madhya Pradesh namely, Shahdol, Raisen, Mandsaur and Sehore.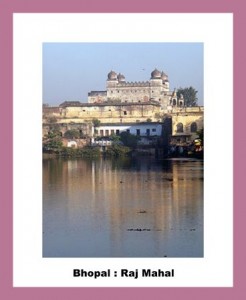 The Raj Mahal is a palace built by Sultan Shah Jahan Begum of Bhopal. It is located next to the Taj-ul-Masajid in Bhopal, India. Its construction lasted over 13 years, from 1871 to 1884, was one of the largest palaces in the world built at that time.