Agra is a city located in the State of Uttar Pradesh in India.
Among its many monuments, it includes the Taj Mahal, Red Fort  and, nearby, Fatehpur-Sikri, all three on  the UNESCO world heritage list.
Agra is located on the banks of the Yamuna. Its average altitude is 171 meters.
Today the rich architectural heritage of the city attracts millions of tourists each year
.
Monuments to visit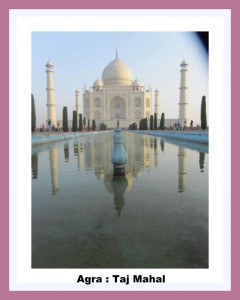 The Taj Mahal, which means 'Palace of the Crown' in Persian, is located at the edge of the Yamuna river . It is a white marble mausoleum built by Emperor mogul Shah Jahan in memory of his wife Mumtaz Mahal. She died on June 17, 1631. At his death, which occurred on 31 January 1666, her husband was buried with her.The Taj Mahal is considered to be a jewel of Mughal architecture.
The central dome of the tomb is surrounded by four identical minarets that are inclined outward so that in the event of earthquake, they collapsed in the direction opposite to the Tomb. To the left of the monument is a mosque, made of red sandstone.
The Taj Mahal complex is inscribed in the world heritage of UNESCO since 1983 and is one of the new seven wonders of the world.
The mausoleum of Itmad-Ud-Daula, sometimes familiarly called Baby taj: it is the tomb of Mirza GhiyasBeg, father-in-law of Emperor Jahangir. Its architecture is reminiscent of the Taj Mahal. It was also the first building of this type built in marble and it is during its construction trades began the technique of inlay of precious stones in the marble that was later widely used for the Taj Mahal.
The Red Fort , built by Akbar in 1565 in red sandstone, dominates the town. Renovated and converted into a residential Palace of Mughal style during the reign of Shah Jahan, it is decorated with marble and inlays of pietra dura.
Covering an area of 380,000 square metres, it is the largest fort of the India. It has been classified world heritage by UNESCO in 1983. The walls, red sandstone, are high of 21 metres and 2.5 km long.
It contains various fabulous palaces of marble, mosques and gardens including style Indo-Muslim Jahangir Palace
Inside the fort is including: the Diwan-I-Khas, pavilion private audiences built by Shah Jahan in 1636, where the emperor received foreign dignitaries