Located in the heart of the Gangetic plain, Lucknow is surrounded by several rural villages Malihabad, Kakori, Mohanlal Ganj, Gosainganj, Chinhat and Itaunja.
Gomti River meanders through the city, dividing it into two parts (Trans-Gomti and Cis-Gomti). Lucknow is located in a seismic zone level 3.
Today, Lucknow is a dynamic city that is experiencing an economic boom and is among the top ten the fastest growing cities of India.
Lucknow is not only an important market and commercial city in northern India, but also an emerging platform for the tertiary sector
Monuments to visit
The Immambara Bara is located immambara Lucknow. Also known under the name of Asafi Imambara, it was built by Asaf al-Daula, Nawab of Lucknow in 1785 with the primary purpose of creating jobs for the natives. It took about six years (complete work in 1791) is famous as the Bhool Bhulaiya, a giant maze;
Asfi Masjid is one of the first tourist attraction of Lucknow. Asfi Masjid is part of the famous Islamic monument Bara Imambara in Lucknow. Asfi Masjid, shrine named after the name of Nawab is a building inside the Bara Imambara. Asfi Masjid or Mosque Asfi is the last monument built without the use of iron and all the help of European experts in construction.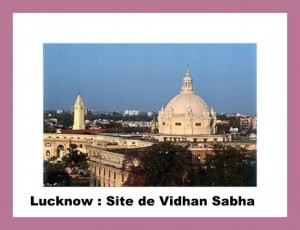 The Vidhan Sabha or the Legislative Assembly