Khajuraho is located on the site of an ancient capital of the Jijhoti Kingdom. From 950 to 1050, the city was also the religious capital of the Chandela.
The Chandela raja there had built a large complex of temples that counting to 85, but whose 22 only remain today. They were devoted to Hindu and jain cults
Monuments to visit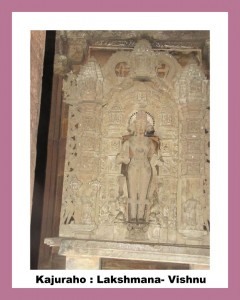 The Lakshmana Temple, dedicated to Vishnu, was built around 950. It houses a sacred image of Vishnu from Tibet. Although being one of the oldest on the site of Khajuraho, it is also one of the most finely decorated, almost covered by representations of 600 gods of Hindu pantheon. The temple is accompanied by 4 templions in the corners of the platform.
This temple is famous for its explicit sex scenes located on the south side of the building, the latter being in reality only a small portion of the decoration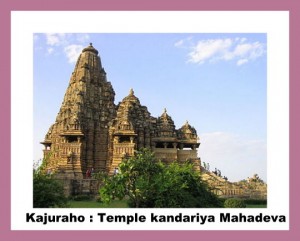 Built during the 1025-1050 year, the Temple of Kandariya Mahadeva is located immediately west of the temple of Lakshmana.
His name Kandarîya,cave  and Mahadeo , the great god, one of the names of Shiva, shows that it is dedicated to the god who in his form of ascetic meditating in a cave. 30-m high, it is the largest site of both its size and its ornamentation with nearly 900 statues carved from golden yellow sandstone. The interior, by cons, is very bare.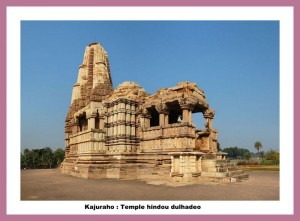 The Hindu temple dedicated to Shiva Duladeo